Donate today
Make a difference today: Join our mission to bring laughter where it is unexpected, yet most needed.
Bring someone the joy they need today
Your donation can be the reason someone smiles today
At The Humour Foundation, we believe in the healing power of laughter. Our Clown Doctors and Laughter Care programs have been spreading joy and providing therapeutic support to those in need for years. But we can't do it alone. We rely on the generosity of donors like you to continue our mission.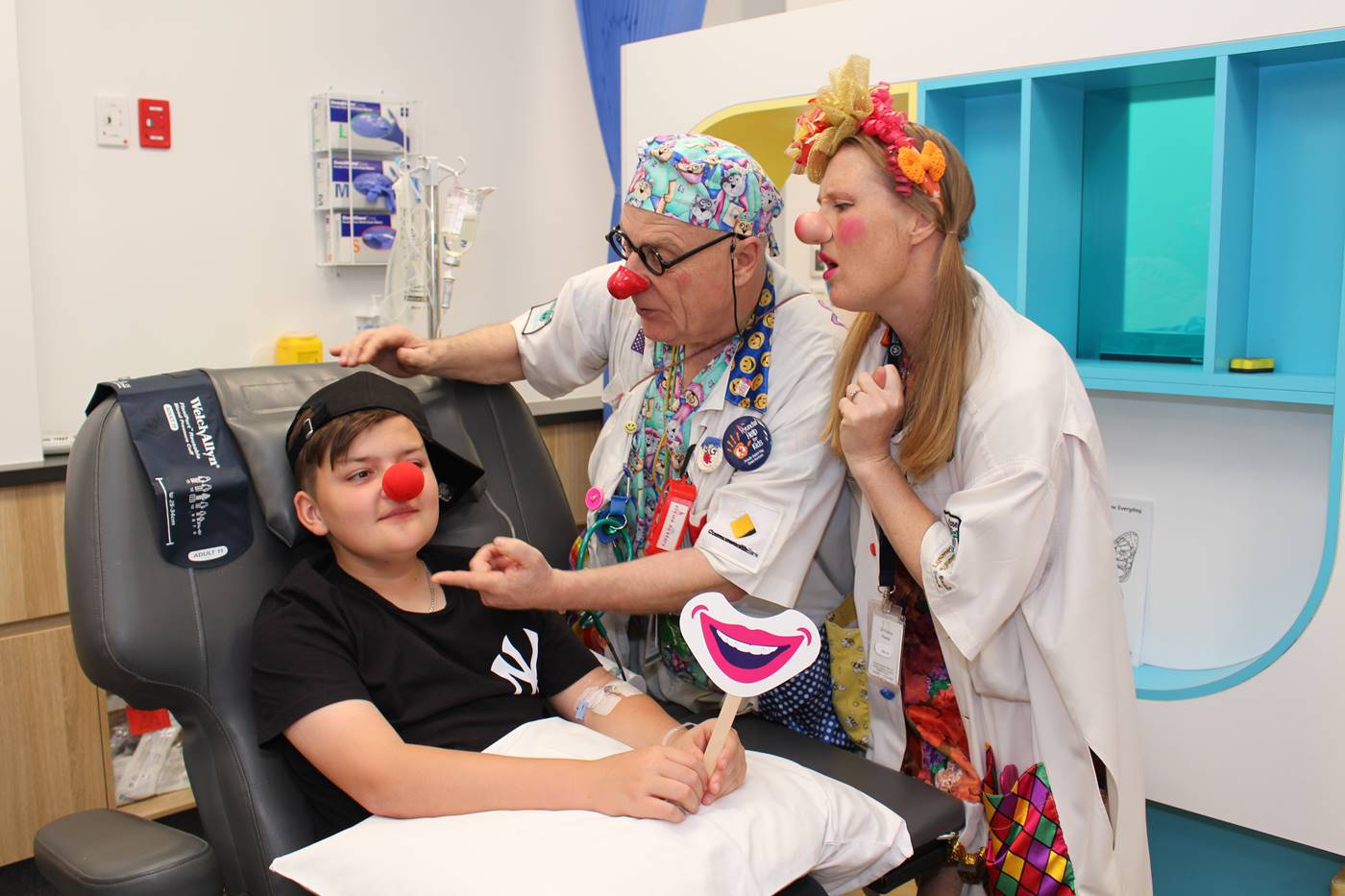 Make a Donation Today
Please provide your personal details so we can send you a consolidated tax receipt and update you on our work and how your donation is being used. At The Humour Foundation we are committed to protecting the privacy of any personal information you provide to us. For information on how we collect, hold, use and disclose your personal information please see our Privacy Policy here
How Your Donation Will Help
In the 2023 Financial Year, with the generous support of our donors, we impacted 251,000 children, aged care residents, carers, and staff in 21 hospitals, one hospice, and 21 residential aged care facilities across Australia. We welcomed 8 new Clown Doctors and Laughter Care specialists to our community during the year.
The Power of a One-Off Gift
Your contribution ensures that we can continue to send our Clown Doctors and Laughter Care Specialists into hospitals, hospice, clinical spaces and aged care facilities, brightening the days of patients, residents and staff.
Give a one-off gift today
The Ongoing Difference of Regular Giving
Consistent support enables us to plan for the long term. By choosing to give fortnightly or monthly, you become a sustaining pillar of our mission, making it possible for us to bring laughter and healing year-round.
Become a regular giver today
The Impact of Ongoing Donations
Your ongoing support allows us to maximise the impact of our Clown Doctors and Laughter Care programs. Regular donations help us invest in more Clown Doctors and Laughter Care Specialists, reaching more hospitals and communities, and ultimately, bring more laughter and healing to those who need it.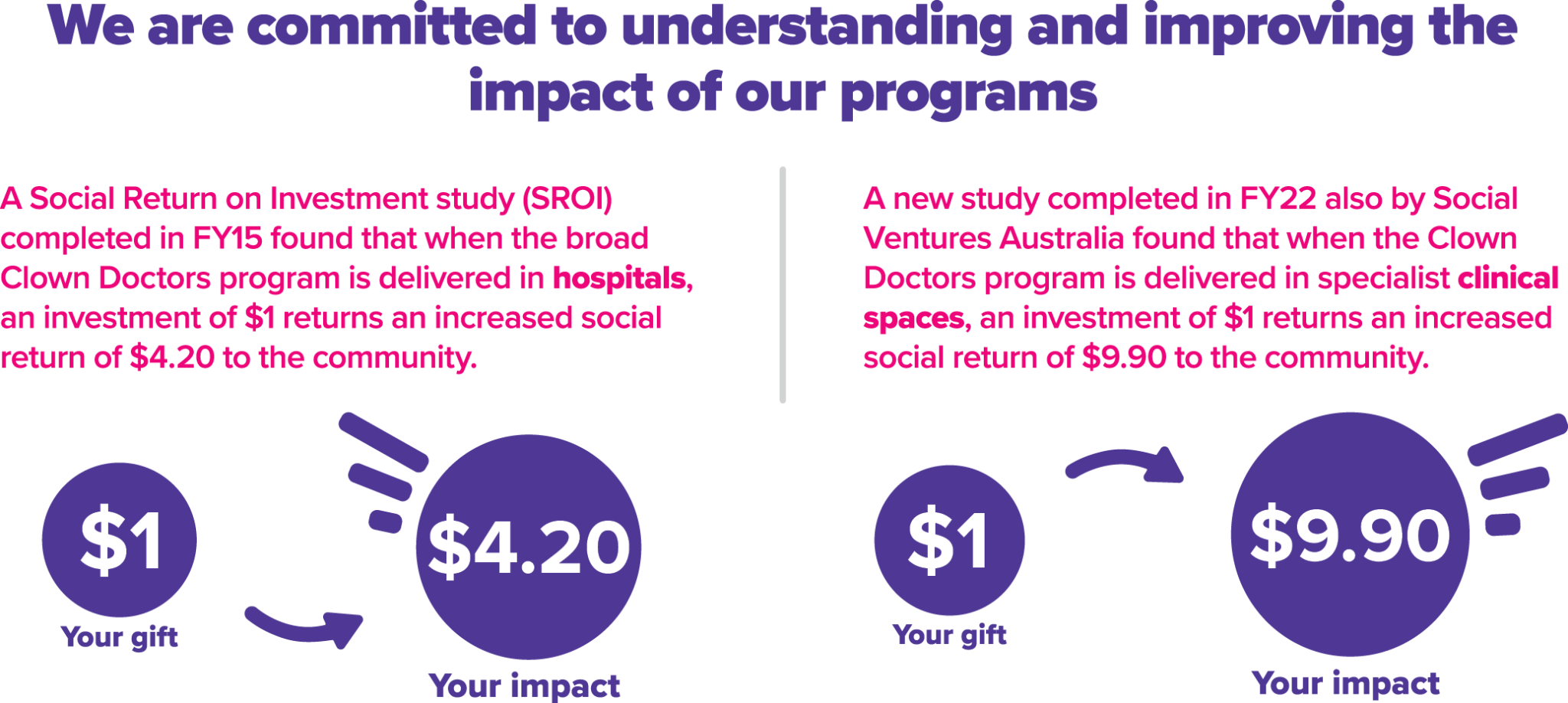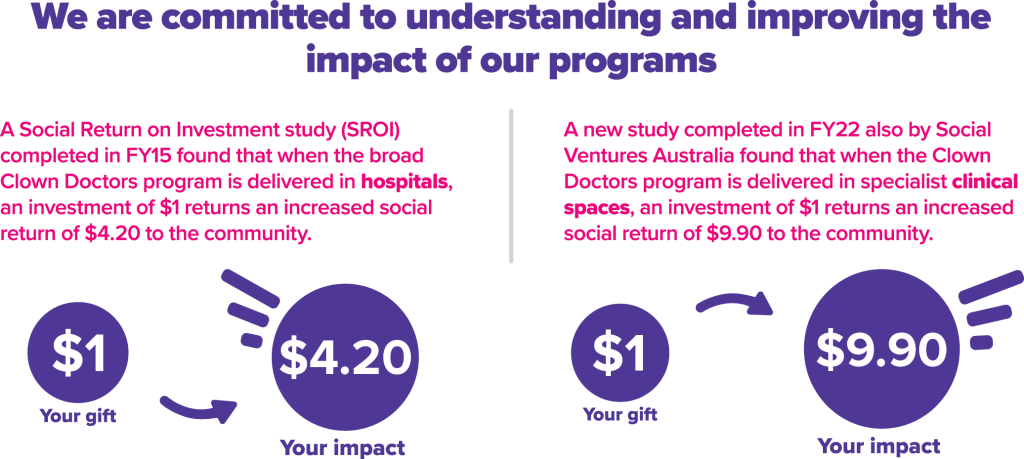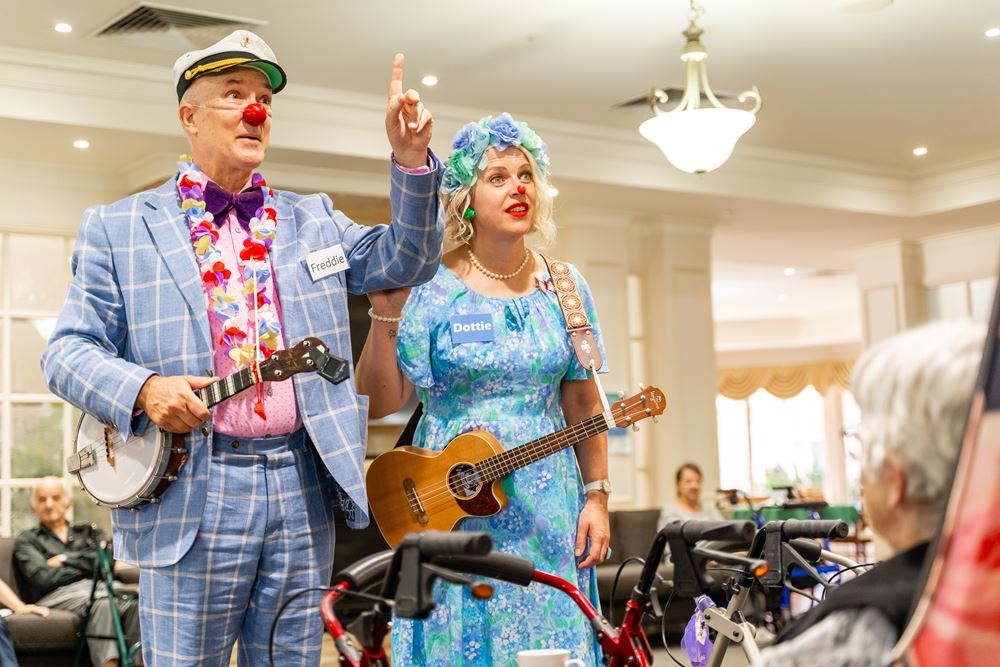 Join Us in Spreading Laughter
Your generosity makes a significant difference in the lives of people facing illness and hardship. Whether you choose to give a one-off gift or become a regular donor, you are helping us carry out our mission to bring joy, connection and comfort through laughter. Together, we can make the world a brighter, happier place.
Donate Today
Please consider making a donation today. Your support is essential to sustaining our Clown Doctors and Laughter Care programs and expanding our reach. Whether it's a one-off gift or an ongoing commitment, your contribution helps us make a real difference.
Join us in spreading laughter, healing, and hope.